Arapahoe Chapter, NSDAR
Boulder, Colorado
Celebrating 100+ Years!
Harvey Spoonhunter, Chairman of the Northern Arapaho tribe, addresses the audience during the Coming Back Home celebration on the Pearl Street Mall on Saturday afternoon, August 8, 2009. Founded on November 15, 1910, the Arapahoe Chapter, NSDAR has over 160 members dedicated to upholding the beliefs of the National Society Daughters of the American Revolution. The name "Arapahoe" was chosen in honor of the Northern Arapaho Indians who inhabited Boulder before the settlers arrived and for the distinctive Arapahoe Peaks whose rugged glaciers provided Boulder with its water supply.
Initially, the Arapahoe Chapter, NSDAR members in 1910 were the wives of Boulder's founding fathers, which included: mayors, University of Colorado professors, bank presidents, physicians, mining magnates, real estate moguls, farmers, ranchers, financiers, government officials, businessmen, judges, and other elected officials. As women of distinction and influence, they were dedicated to building the community through their work in the Daughters of the American Revolution, as well as through other organizations such as the Woman's Relief Corps and the Fortnightly Club.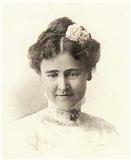 Lena Moys,
First Regent of the Arapahoe Chapter, NSDAR
In the early years, the meetings were very formal, and a "musicale" was always performed. Through the 1950s, the Daily Camera had a reporter cover each meeting for the society page. Meeting programs reflected the interests of the members and the important issues of the times, ranging from Revolutionary War history to Colorado history and conservation topics. As WWI hovered on the horizon, retired military officers were invited to address the chapter. Immediately following the war, physicians talked about the threat of the influenza epidemic. Toward the end of the 1930s, with war threatening again, speakers made presentations on the pressing issues of those days, whether local, national, or international. After the war, members heard programs about the "Prospects of World Peace," and the CU Dean of Women addressed the membership regarding "How a Changed World is Affecting Women."
Today's NSDAR members volunteer more than 60,000 hours annually to veteran patients, award over $150,000 in scholarships and financial aid each year to students, and support schools for the underprivileged with annual donations exceeding $1,000,000. The Arapahoe Chapter, NSDAR has supported veterans and front-line troops, from WWI to today's conflict in Afghanistan. The chapter also provides scholarships to students, funds American Indian Schools founded by the National Society, and supports environmental and conservation programs.